The eventful and varied history of AUDI AG extends back to the 19th century. Find out more about the great personalities from the brand's 100-plus years of history. Learn about the fascinating evolution of the various models and major milestones in the fields of car manufacturing, engine production and motor racing.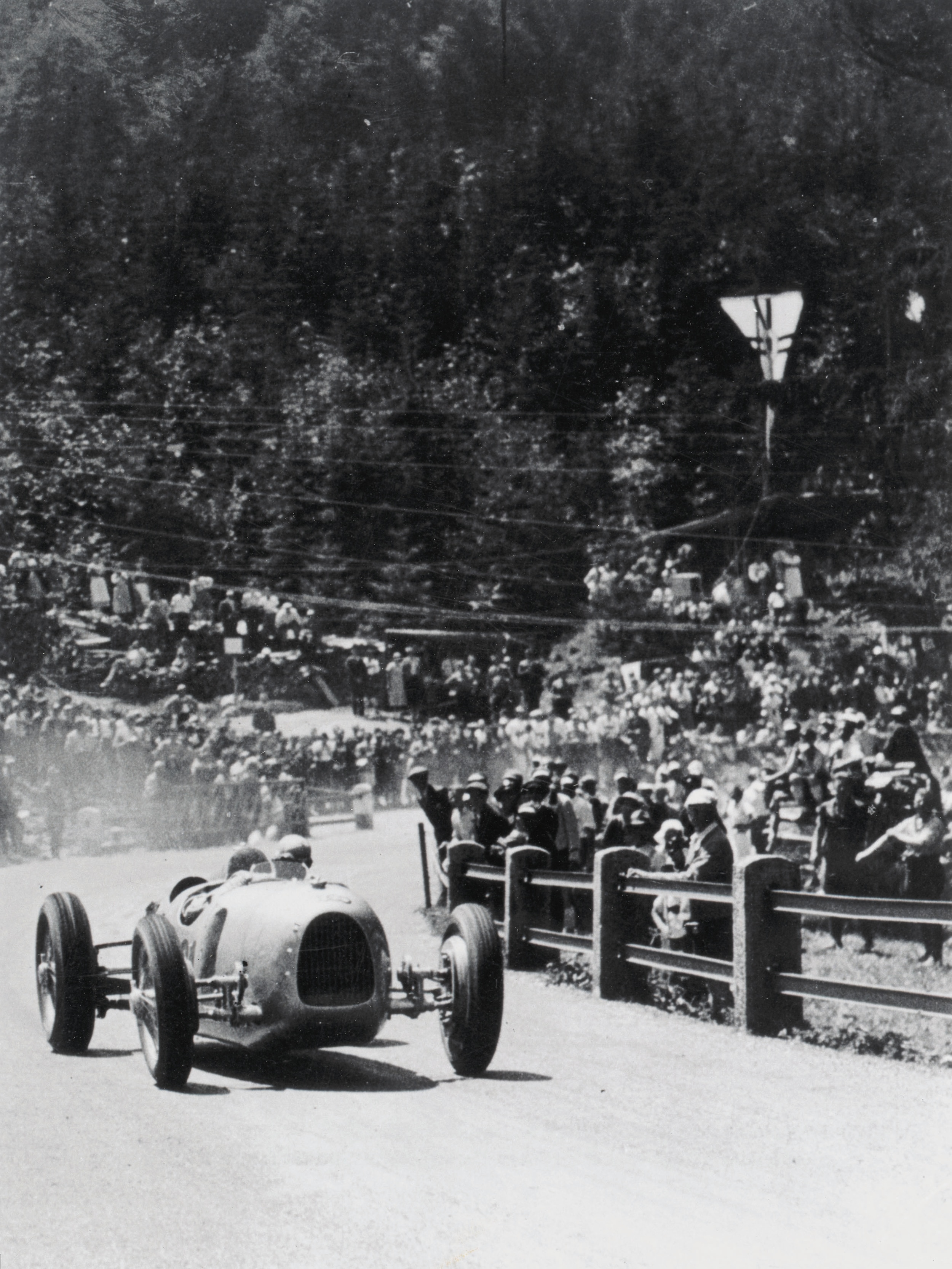 Horch
By the end of the nineteenth century several companies in Germany were already building cars. Among them was August Horch & Cie., established on
14 November 1899 in Cologne. August Horch was one of the pioneer figures of automotive engineering. Before setting up business on his own, he worked for Carl Benz in Mannheim for three years as Head of Automobile Production.
In 1904 August Horch moved his business to the town of Zwickau and transformed it into a share-issuing company. Following differences between the Executive and Supervisory Boards, August Horch left his company in 1909.
Audi
The company founded on 16 July 1909 by August Horch in Zwickau was no longer allowed to bear his name for reasons of competition law. "Audi!" was selected as the Latin translation of the word "horch!". Therefore, the second company founded by August Horch traded under the name Audi Automobilwerke GmbH, Zwickau from 25 April 1910 onwards.
Wanderer
In 1885, the two mechanics Johann Baptist Winklhofer and Richard Adolf Jaenicke opened a repair business for bicycles in Chemnitz. Shortly afterwards they began to make bicycles of their own, since demand at that time was very high. These were sold under the brand name Wanderer, and in 1896 the company itself began to trade as Wanderer Fahrradwerke AG.
Wanderer built its first motorcycle in 1902. The idea of branching out into motor car production was finally put into practice in 1913. A small two-seater that people nicknamed "Puppchen" (loosely translated as "Baby Doll") heralded in Wanderer's tradition of motor car production that was to last several decades.
DKW, the abbreviation for "Dampfkraftwagen" ("steam-driven vehicle").
Established originally in 1902 as Rasmussen & Ernst in Chemnitz, the company moved to Zschopau, in Germany's Erzgebirge mountains, in 1907. It first manufactured and sold waste steam oil traps and other components for steam raising plant, and later added centrifuges of all kinds and painting equipment to its product range. It also supplied car parts such as mudwings and vehicle lighting.
The company's founder Jörgen Skafte Rasmussen began to experiment with a steam-driven motor vehicle in 1916, registering "DKW" as a trademark. By 1919 the company's name had been changed to Zschopauer Motorenwerke and it was manufacturing small two-stroke engines. This led in 1922 to the successful introduction of motorcycles bearing the DKW name. The first small DKW motor car appeared on the market in 1928.
Auto Union AG, Chemnitz
On 29 June 1932, Audiwerke, Horchwerke and Zschopauer Motorenwerke/DKW merged on the initiative of the State Bank of Saxony to form Auto Union AG. At the same time a purchase and leasing agreement was concluded with the Wanderer company for the acquisition of its automobile department. The new group had its headquarters in Chemnitz.
When Auto Union AG was established, it was the second-largest motor vehicle manufacturer in Germany. The four interlocking rings chosen as its emblem symbolised the indissoluble unity of the four member-companies. The brand names Audi, DKW, Horch and Wanderer were retained. Each of the four brands was allocated a specific market segment within the new company:
DKW: motorcycles and small cars;
Wanderer: medium-size cars;
Audi: cars in the upper midsize market segment;
Horch: top-class luxury cars.
In 1938 every fourth car registered in Germany and every third motorcycle was a product from Auto Union AG. When the Second World War broke out in 1939 the company converted its production to war production. As the war dragged on, more and more labour was required and ultimately significant numbers of forced labourers, prisoners of war and concentration camp prisoners were assigned.
Auto Union GmbH, Ingolstadt
In 1945, after the Second World War, Auto Union AG found itself in what was then Germany's Soviet Occupied Zone. It was requisitioned by the military authorities and the factory dismantled. Leading company executives made their way to Bavaria, where a new company was formed on 3 September 1949 in Ingolstadt. Auto Union GmbH, as it was called, continued the motor-vehicle tradition as exemplified by the Four Rings, and began to build well-proven DKW vehicles with two-stroke engines (motorcycles, passenger cars and small delivery vans).
A new Auto Union model appeared on the market in 1965, the company's first post-war vehicle with a four-stroke engine. This was the start of a new era, and logically enough a new product name was also considered necessary: the traditional Audi name with its fine tradition was revived. A short time later, the last two-stroke DKWs rolled off the production line in Ingolstadt. From then on, the new models with four-stroke engines were produced under the brand name "Audi".
A new era also began in a different sense: in 1965 the Ingolstadt-based company became part of the Volkswagen Group.
NSU
The NSU company was founded in 1873 by two mechanics from the Swabian region of Germany in the town of Riedlingen an der Donau. Seven years later it moved to Neckarsulm. In the first 20 years of its existence, it manufactured knitting machines.
In 1886 the proprietors of the knitting machine factory opened a department devoted to building bicycles. From then on, two-wheeled road vehicles were to govern the company's fortunes. Motorcycle production started in 1901, and the company's first cars appeared five years later. Car production ceased in 1929, however, when the company decided to concentrate fully on its bicycles and motorcycles. It was almost three decades later, in 1958, when car production recommenced in Neckarsulm.
On March 10, 1969 Auto Union GmbH, Ingolstadt joined forces with NSU Motorenwerke AG, Neckarsulm. The new company, known as Audi NSU Auto Union AG, was established retrospectively from January 1 onwards and had its head offices in Neckarsulm.
AUDI AG
The last NSU car left the factory in March 1977, after which the entire car output bore the Audi brand name. The company's name, Audi NSU Auto Union AG, was considered clumsy and a more streamlined version, AUDI AG, was adopted in 1985. The company and its products then shared the same name. When this change was carried out, the company's head offices were moved from Neckarsulm to Ingolstadt.
In the 1980s the Audi brand's market positioning was continually raised. The "Vorsprung durch Technik" claim to technical leadership was borne out by such developments as quattro, TDI, aerodynamic body design, fully galvanized bodyshells for corrosion protection, hybrid technology in the Audi duo, aluminium bodywork for the Audi A8 Audi Space Frame and systematic lightweight construction with increased use of composite materials. With their dynamic, emotive design, Audi models have for more than a quarter of a century taken the Audi company forward to its present position as a premium brand on the international automobile scene.