With all the rain that
Portland, OR
receives, all of us here at Audi Beaverton want you to know how the front and rear wipers work in your Audi! There are many different settings that the wipers can be put in depending on what the level of precipitation is.
Move the windshield wiper lever to the corresponding position:
0) Windshield wipers off
1) Interval mode. To increase/decrease the wiper intervals, move the switch
A
to the left/right. In vehicles with a rain sensor, the wipers turn on in the rain once the vehicle speed exceeds approximately 2 mph (4 km/h). The higher the sensitivity of the rain sensor that is set (switch
A
to the right), the earlier the windshield wipers react to moisture on the windshield. You can deactivate the rain sensor mode in the Infotainment system, which switches the intermittent mode on. To do this, select:
MENU
button >
Vehicle >
left control button >
Driver assistance > Rain sensor.
2) - Slow wiping
3) - Fast wiping
4) - Single wipe. If you hold the level in this position longer, the wipers switch from slow wiping to fast wiping.
5) - Clean the windshield. To eliminate water droplets, the windshield wipers perform one afterwipe after several seconds while driving in temperatures above 39 degrees F. You can switch this function off by moving the level to position
5
within 10 seconds of the afterwipe. The afterwipe function is reactivated the next time you switch the ignition on.
Clean the headlights. The headlight washer system operates only when the low beam headlights are switched on. If you move the lever in position
5,
the headlights will be cleaned in fixed intervals.
Rear Wipers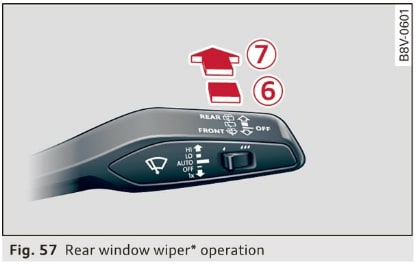 6)
Wipe the rear window. The rear wiper moves
about every 6 seconds.
The rear wiper automatically switches on when the reverse gear is selected and the front windshield wipers are on and running.
7)
Clean the rear window. The number of wipes depends on how long the level is held in position
7.