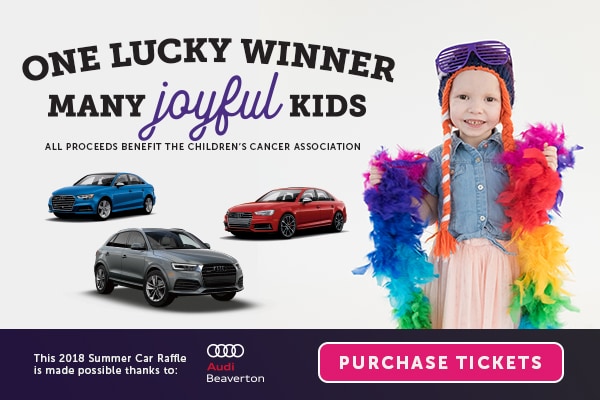 Audi Beaverton is proud to sponsor the Children's Cancer Association for the Summer Car Raffle again! All of the proceeds benefit the Children's Cancer Association.
This is your chance to win an Audi! Only 3,500 raffle tickets will be sold and tickets are $40.00 each. The winner will be selected in a live drawing on Thursday, September 20th at 5 pm. This one winner will choose one of three Audi's!
Thank you for supporting the CCA with the purchase of a raffle ticket for the Summer Car Raffle. This purchase is non-deductible. See all official rules below.
Purchase your Raffle Tickets here!
The CCA knows that for seriously ill children and their families every moment is precious. That's why their programs leverage music, nature, friendship, and resources to create transformative moments of joy for 30,000 children, teens, and their family members each year. Unlike many organizations dedicated to the worthy goal of someday finding a cure for cancer, CCA is all about creating joy today.
See official raffle rules here.